rollApp lets you run desktop apps, work with files, get things done — right from the browser on any device.
How to Turn Your Chromebook into a Productivity Powerhouse
Ever want to go beyond known limitations of your Chromebook? Welcome to rollApp Cloud. rollApp let you use popular desktop applications – many of them even not available in the Chrome Web Store – on your Chromebook, without downloading and installing them. How? Just launch an app you need in the Chrome web browser and you're all set.

Keep in mind that using rollApp you'll also be able to work with your files not only via Google Drive but also with your Dropbox or Box cloud storage. It's super easy to connect and configure them in your rollApp profile. 

Here's a list of the most popular Chromebook apps available on rollApp platform: 
1. Office Suites 
– 
full-fledged alternatives to Microsoft Office and Office365 
OpenOffice – powerful office package, compatible with all major document file formats. 
LibreOffice – word processing, spreadsheets, slides and diagrams. Create Word documents and edit Excel files.
Calligra Suite – a relatively new set of standards-compliant office and graphics applications. 
2. Graphics & Drawings
MyPaint
 – graphics application for digital painters. The app comes with a large brush collection including charcoal and ink to emulate real media, but the highly configurable brush engine allows you to experiment with your own brushes and with not-quite-natural painting.
Inkscape
 – a professional quality vector graphics application. It is used by design professionals and hobbyists worldwide, for creating a wide variety of graphics such as illustrations, icons, logos, diagrams, maps and web graphics. Inkscape uses the W3C open standard SVG (Scalable Vector Graphics) as its native format. In contrast to raster (bitmap) graphics editors such as Photoshop or Gimp, Inkscape stores its graphics in a vector format. Vector graphics is a resolution-independent description of the actual shapes and objects that you see in the image. While Inkscape does not have all the features of the leading vector editors, the latest versions provide for a large portion of basic vector graphics editing capabilities.
KolourPaint
– the apps is designed for tasks like drawing diagrams and "finger painting"; diting screenshots and photos; applying effects; drawing clipart and logos with transparency.
LibreCAD
– a comprehensive 2D CAD application that comes with a range of tools to create 2D drawings for industrial design.
Darktable
– a photography workflow application and RAW developer. A virtual lighttable and darkroom for photographers. It manages your digital negatives in a database, lets you view them through a zoomable lighttable and enables you to develop raw images and enhance them.
Featuring the "color mapping" module on the Darkable blog. 
3. Publishing 
Scribus
– a publishing application with a broad set of page layout features, comparable to leading applications such as Adobe PageMaker, QuarkExpress, and MS Publisher.

4. Diagramming 

Dia
– the app supports more than 30 different diagram types like flowcharts, network diagrams, database models. More than a thousand readymade objects help to draw professional diagrams. Dia can read and write a number of different raster and vector image formats. Software developers and database specialists can use Dia as a CASE tool to generate code skeletons from their drawings. Dia can be scripted and extended using Python.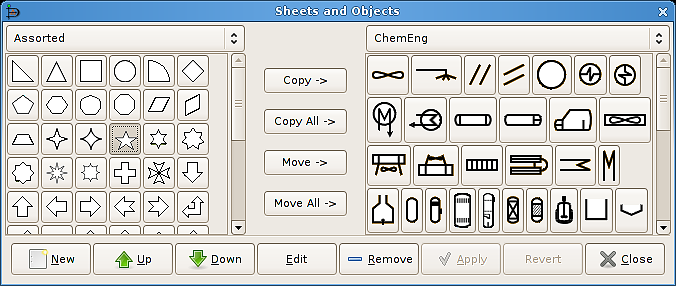 Related posts: