rollApp lets you run desktop apps, work with files, get things done — right from the browser on any device.
Introducing rollMyFile - open any file online
From the very beginning rollApp allowed open files from Dropbox, Google Drive and other cloud storage. With our rich collection of apps you can always be sure that you will find necessary application for any particular type of file you have at hand.
Ever since then users kept asking for an ability to open files directly from their devices without having to upload them to Dropbox or the like first. And today we are ready to reveal our new product that does exactly that. Welcome rollMyFile!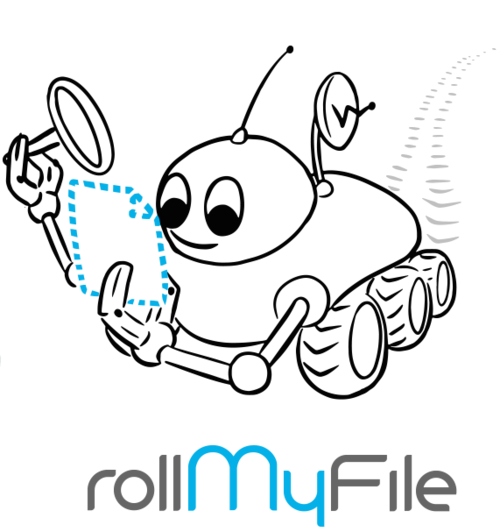 Opening files from your computer is now as easy as dragging the onto the rollMyFile web page!
rollMyFile supports over 500 different types of files including:
eBooks: epub, fb2, djvu and others
zip, rar, and other archives
Documents: Microsoft Word files: doc, docx; Rich Text files: rtf;OpenOffice Writer files: odt; Word Perfect files: wpd; PDFs and others
Spreadsheets: Microsoft Excel files: xls, xlsx; OpenOffice Calc files: ods, ots; Comma-Separated Values files: csv
Presentations: Microsoft PowerPoint files: ppt, pptx, pps, ppsx; OpenOffice Impress files: odp, otp;
Graphics: jpg, png, bmp, gif, svg, tiff and many others including Adobe Photoshop's psd and Adobe Illustrator's ai;
Diagrams: Microsoft Visio files: vsd and others like dia, fig;
Publishing files: PostScript: eps, ps; Scribus files: scd, sla; and more;
Software source code with syntax highlighting
and more
rollMyFile comes with an API that allows developer to integrate file opening capabilities similar to what you can see on rollmyfile.com into their applications. Check out the API specification and signup for early access!
Our current and future rollApp users can open files from their devices from their home page on our newly redesigned site: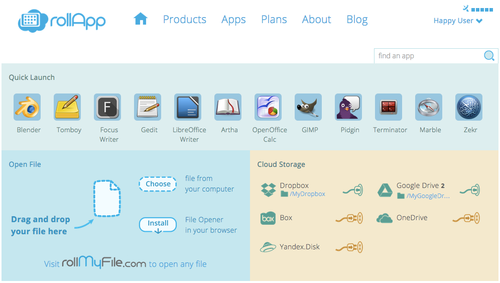 rollApp users will also be able to save their changes to files opened via rollMyFile to their cloud storage.
Give rollMyFile a try now!