rollApp lets you run desktop apps, work with files, get things done — right from the browser on any device.
Introducing New rollApp Home Page
You may have noticed that we recently launched our redesigned web site. One of its core new features is home page of registered user, which makes it easy to launch frequently apps and more. Here we want to tell you more about how it works.
Now, when you login, you are redirected to this new home page: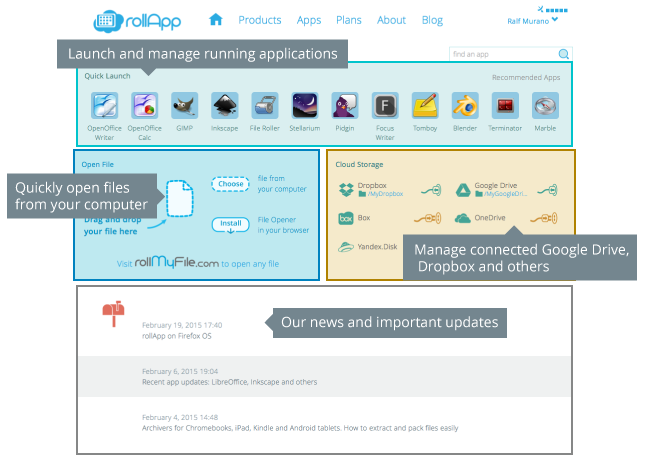 Right at the center of your home page there is a Quick Launch bar, which allows to quickly launch applications – just click on the icon. In addition to the applications you used recently, we will add some recommended applications to help you discover other great apps available on rollApp.
Quick Launch bar also helps managing currently running applications. If you are absolutely sure that you would not lose any unsaved data in your application you can close it from the Quick Launch.

When you disconnect from an application (by closing browser window, closing laptop lid, etc), the application keeps running in the cloud. If you are a user on a Premium plan, the app will be running for 60 minutes, which gives plenty of time to reconnect to the application from another device or find a power outlet if your device has run out of battery. Users on the Free plan will get only 10 minutes.
To make dealing with files more accessible you can now open files from your computer using our new service rollMyFile directly from your rollApp home page. In addition to that you can now manage your cloud storage right from this page to make it possible to access your files in Dropbox, Google Drive, Box or OneDrive.
Also, at the bottom there are latest updates from rollApp. Keep an eye on them to see what new apps become available, learn about platform updates and get productivity tips and tricks from our team.
We will continue writing about features of the rollApp platform and we will appreciate your thoughts and ideas about our new site. Drop us a note at support@rollapp.com or our community forum.
Let your friends know about rollApp: share, tweet or +1 this post!