rollApp lets you run desktop apps, work with files, get things done — right from the browser on any device.
Meet rollMyFile Buttons – great way to share files with others
Have you ever found yourself in a situation, when you needed to share a file with someone, but were not sure if she has necessary software to open it? Or, even worse, you were sure that the other party does not have necessary software? This often happens in professional setting, when you need to share mindmaps, CAD drawings, sophisticated graphics or other files in uncommon formats. Earlier, the best way to ensure the recipients can actually open and review what you share was to save the file as PDF or a plain PNG image irrevocably loosing many of the details in the original file.
Now there is a better way to share and publish files, while at the same time preserving high fidelity of your content and liberating your readers from the need to hunt for software to deal with your files – rollMyFile Buttons. In a few easy steps to can create a button, which will open your file in a fully functional online application specifically tailored at that type of file!
For instance, if you want highlight the points you are making in a blog post with a mindmap, you can give them full experience of interacting with your mindmap instead of scrolling around a huge PDF with an elegant button like this (it's functional, try it now ;)

Here is how it works.
In your profile on rollapp.com (that's right, you'll need to register, if you have not done so yet) there is a section called "rollMyFile Buttons", which lists all your existing rollMyFile buttons and allows to create new.
When you click on Create rollMyFile button now there, we will take you to a wizard, which will guide you through the process: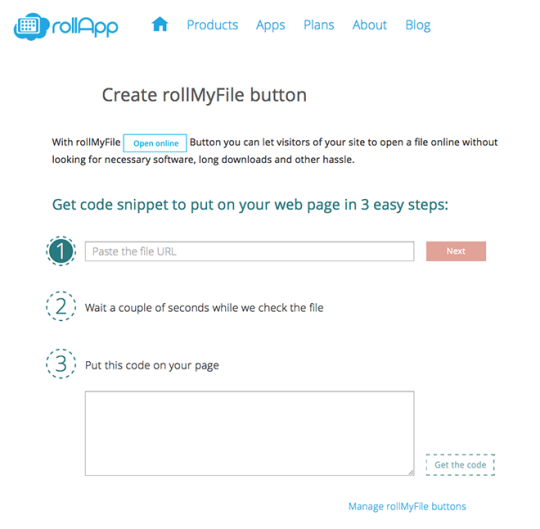 Step 1. Paste the URL of the file you want to create button for. The file has to be publicly available for download.


Step 2. Click Next and we will check that the file is accessible and find a suitable application to open it in our collection.


Step 3. Copy the generated code and put it in appropriate place on your web page and you are done!


Now when your visitors click the Open online on your page, we will open the files for them in an online application. With rollMyFile Buttons you can be sure all of your readers will be able to open and review the files you share.
If you have any questions or ideas – do not hesitate to contact us at support@rollapp.com.